Assessing The Right eSTIP Or eTIP Technology
Navigate the nuances of picking a new eSTIP or eTIP technology. Downloadable matrix included!
[15 minute read]
If you are thinking about adopting new TIP / STIP software, it is important to take a thoughtful approach. Otherwise, you could end up with an out of control scope, a project that never ends, or a system that does not accomplish the core of what you need it to do.
This quick guide provides important criteria to consider when evaluating different technologies. If you are working within a team, this can be used as a framework to find alignment. A downloadable matrix is also included to help chart out your findings.
Best of luck!
You have to know where you are going to get there.
Establishing a Vision
It may be cheesy to say but the first thing you must nail down is the vision for what you want to improve within your organization and how new technology can help you achieve it. Be sure to keep your vision focused and clear. 
Imagine—as you evaluate new technology solutions, your vision is going to be your guidepost to help steer you back on course and make the right choice. This is especially true if you are working with team members in different roles or departments. Everyone might have a use case they would want a new technology to accommodate, but all those things should contribute to your end goal. It is a great way to keep the scope and cost of a solution in check. 
Questions to ask:
Who are the primary end users or beneficiaries of the new system?
Where are the bottlenecks, time consuming tasks, or areas prone to issues in current planning process?
What are the most common and biggest pain points that users face in their daily work?
Where are the opportunities for improvement – to not only fix problems, but also elevate standards?
Are there peers that you can look to for inspiration?
Supporting Milestones and Metrics
Your vision is what helps you stay true to your course. However, it is the milestones or metrics you set that define how successful you have been at picking the right technology. These are the specific accomplishments you want to share with leadership and colleagues once a new solution is implemented. The milestones or metrics should speak directly to your vision.
Here are some example vision and milestone/metric statements: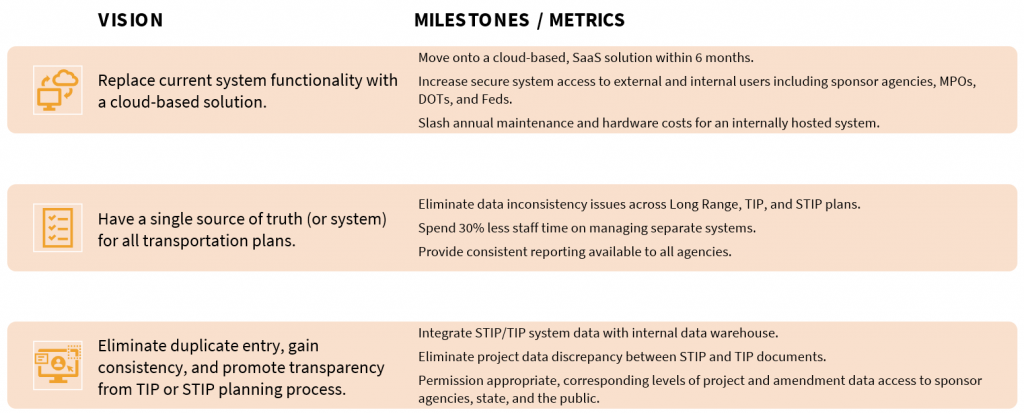 Choosing the right technology is like choosing the right partner.
Whether it is developing a system internally or purchasing an off-the-shelf software, you want a partner who is invested in making innovations and is focused on addressing needs of the end user. There are a few factors worth considering.
Industry Expertise
In the technology space, you want to find a partner that has expertise in both building a technical solution AND domain expertise in your industry.
For example, if you are looking for  software to manage projects within your State Transportation Improvement Plan, your partner must have experience building software AND in transportation planning. They should understand the federal rules and regulations for approving and reporting on transportation plans, as well as how information needs to flow between each step of the approval process.
You will be able to judge the expertise of potential partners by:
The product they provide
Their track record with other clients
Continual Product Development
Technologies are constantly evolving, as are user needs and relevant regulations. Any technology solution for government agencies must face these factors of change by continually and adequately investing in evolving needs.
Typically, vendors with a niche product are better equipped to provide continual product innovation. They are able to:
Focus investments and efforts on regular improvements to a defined product offering
Can spread the cost of development across their client base
Can use their expertise and client feedback to provide impactful, modern solutions
In cases where solutions are custom-built from the ground up, it is important to prepare a realistic projection for development timeline and costs at discrete milestones every 6 months at minimum. This ensures that a project will not suddenly discover to be dramatically under-delivering and over-budget after two years. A helpful exercise is comparing projections for timeline and costs against actual track records on similar projects. In addition, any cost forecasting must reflect details on how the solution will be adequately maintained on a continual basis to avoid technology or obsolescence, given today's technologies are evolving more quickly than ever before.
Maintainability
Maintainability refers to the ease with which you repair and improve software. This includes things like bug fixes, supporting capability enhancement, improving efficiency, and fixing security vulnerabilities. 
If you are moving toward implementing new technology internally, you will need to budget resources to maintain the system and factor in end-of-life of the underlying system infrastructure. If purchasing through a vendor, maintenance is typically included as part of the package. 
Either way, you want to ensure that the solution you choose now remains viable for as long as possible into the future.
Support
Having responsive ongoing support is key to success in the next critical phase after a new technology is implemented. Having a 'Help Desk' or 'Support Team' to engage with can make resolving an issue as simple as an email. Tutorials, training, and the user-friendliness of the system can also facilitate additional support to new users being onboarded.
Implementation Timeline
Time is of the essence! This is especially true when implementing new technology. You want something that can be up and running quickly so that you can maximize its value and keep your team and leadership excited about the positive outcomes of a new solution. 
Cost of Ownership
Whether shopping at a grocery store or picking an enterprise solution–cost is always an important consideration. The part that is often overlooked is the total value of a better product.  For example, if solution A is $40,000 cheaper than option B, but option B provides potential time savings and increased engagement worth over $80,000, you should choose option B.  Although option B may require more upfront investment, the return in the long run is much greater.
Some examples of benefits worth evaluating are outlined below.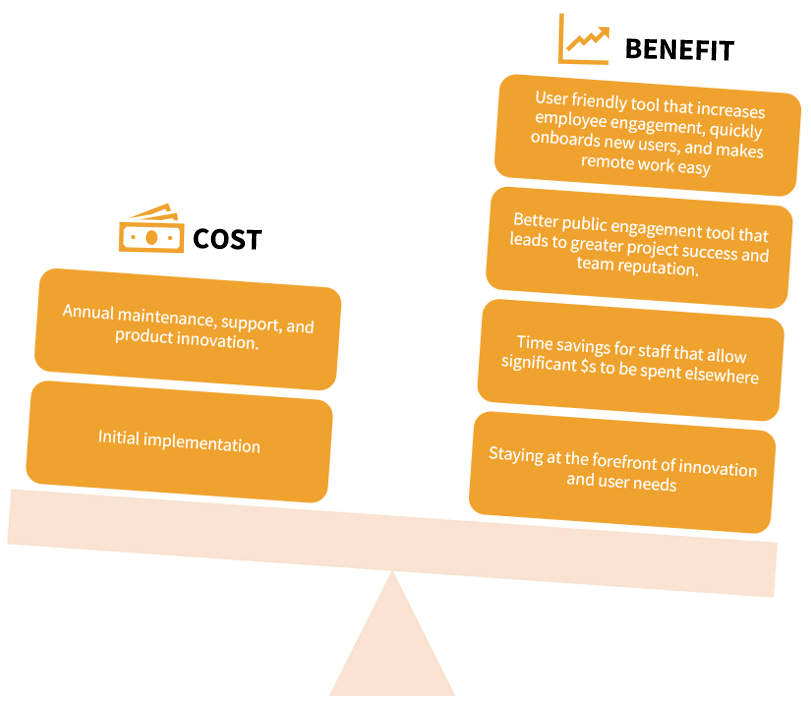 A framework to find the right tool…
You can choose to take a quantitative or qualitative approach to filling out the framework below. Qualitative is nice because you can capture some of the nuances, especially if you are evaluating between different types of solutions: vendor, contractor, internally built, etc. Quantitative is helpful if you are evaluating many potential solutions, or if there is not a clear consensus among a large group.
The downloadable matrix includes a template for both qualitative and quantitative approach.